Adaptive Mobility Presents the 2022 Toyota Sienna Hybrid!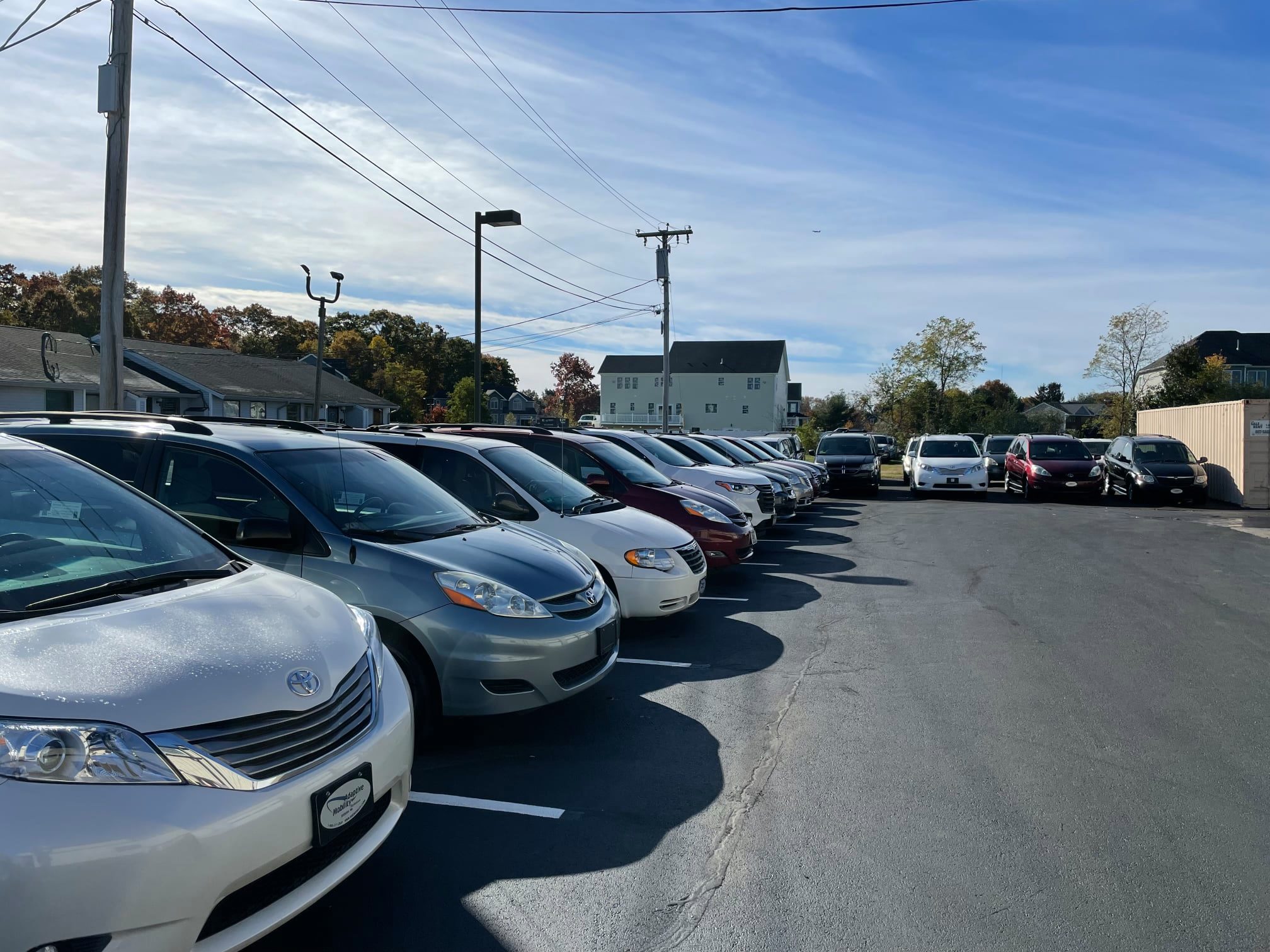 The new 2022 Toyota Sienna HYBRID BraunAbility wheelchair vans are now here on our lot. Limited supply so act now!!
While others are raising their prices, ours are discounted thousands from MSRP. Take advantage of your higher trade value while you can. Our lot is full of Used and New Wheelchair Ramp Vans.
Adaptive Mobility Wheelchair Vans is a 3 generation family business offering the same products and better service than the national chain competitor and we thank you in advance for supporting your local family business.
Email or Text Brian for more information or to schedule an appointment.
Brian2156@gmail.com, 1-401-413-2265


Introducing the BraunAbility Toyota Sienna Hybrid Foldout – ​the First-Ever Hybrid Conversion!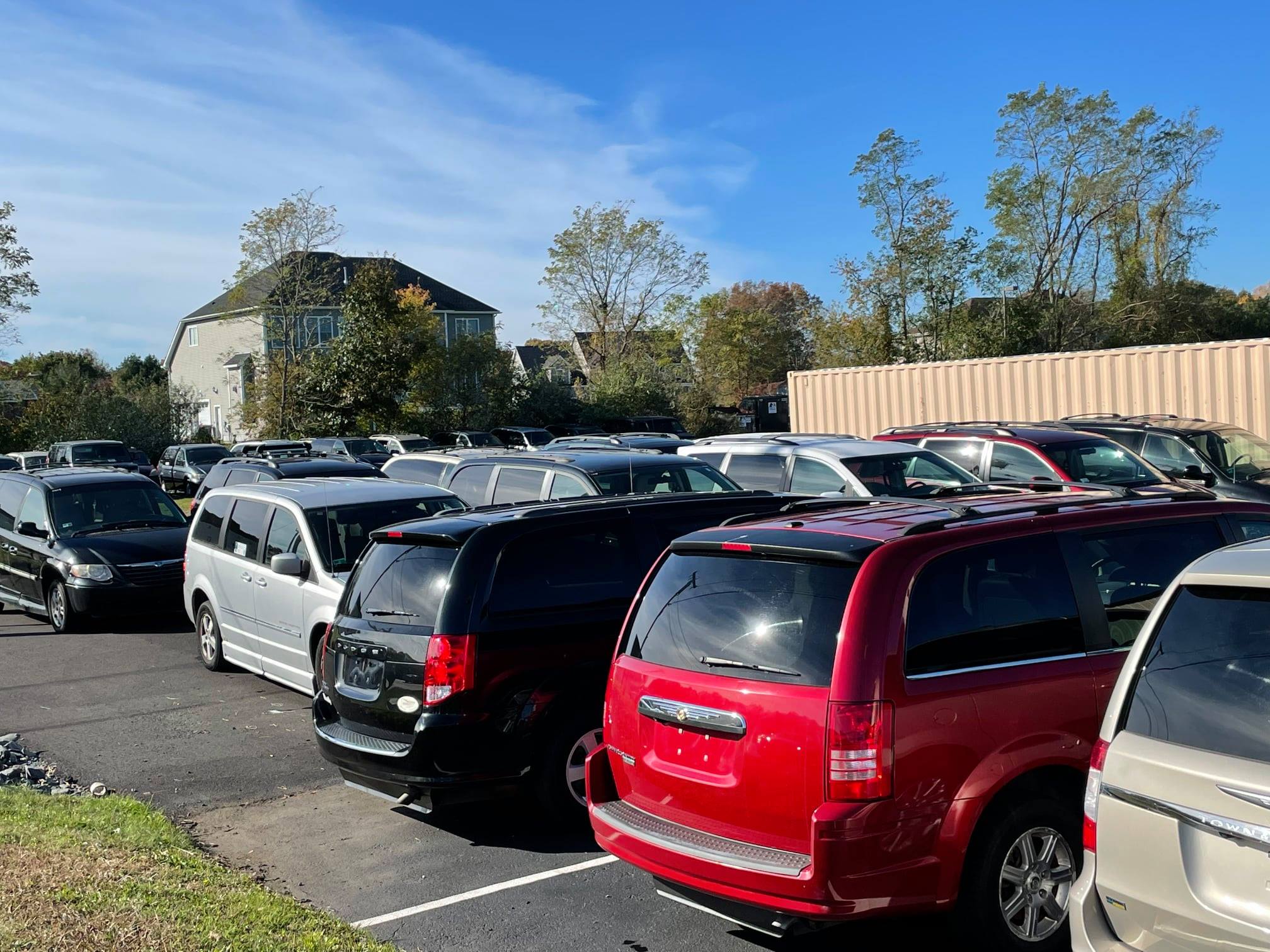 The all-new BraunAbility Toyota Sienna Hybrid is spacious, sophisticated, and styled to seamlessly match the customer-favorite Toyota Sienna in both dependability and design. ​​ The first-ever hybrid conversion from BraunAbility maintains the 36 mpg fuel efficiency, both highway and city mileage. Our engineers built the conversion utilizing the same suppliers and design integrity as Toyota, ensuring best-in-class reliability and ride and handling. With an ultra-wide doorway opening, ramp width, and interior cabin space for the largest wheelchairs, the newest BraunAbility Toyota Sienna will be a customer-favorite for any wheelchair user.
Aside from space and style, BraunAbility engineers have also ensured comfort and convenience for all passengers. The features of the original center console have been retained, including all USB ports and two cupholders, while creating more space to ensure maneuverability for wheelchair passengers in the driver or front passenger position. All-new LED lighting illuminates the interior cabin with a soft glow for easier navigating at night, and an effortless, full-length footrest ensures all third-row passengers are comfortably seated.​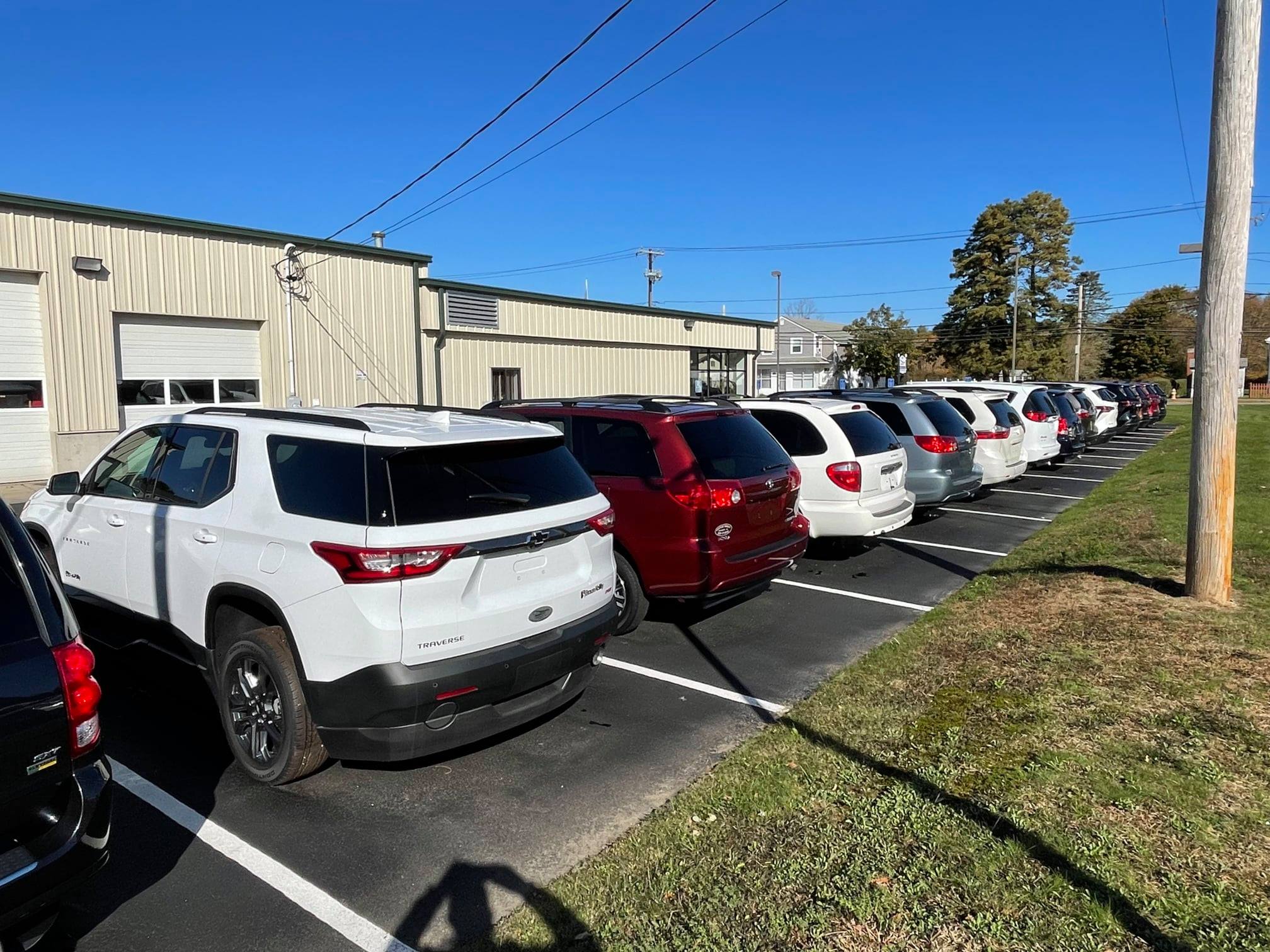 BraunAbility Toyota ​Conversion Features​:
- Side-entry with power foldout ramp
​ - Extra-wide doorway opening
​ - 29.25" wide ramp, 56" doorway height​
​ - Spacious cabin matches previous model year Toyota conversion​
​ - 36 mpg - city or highway - fuel economy retained after conversion​
​ - Customized center console retains the comfort and tech features while maximizing space for driver and front passenger​
​ - Industry-proven kneeling system achieves a 9.5-degree ramp angle for easy entries and exits​
​ - Full-length, rotating footrest stows compactly with little effort
​ - Industry-first LED-lighting to softly illuminate cabin for easier navigating
​ - Wheelchair van, Handicap van, Braun vans​
Get more info on the 2022 Toyota Sienna Hybrid from BraunAbility

---
ONLINE SALES!

FREE DEMO AT HOME!

Don't want to come here? No problem!
Call Brian at 1-508-336-2556 (after hours call 1-401-413-2265) and he will bring any van to your home to make the process easy. We even take care of all the paperwork and registry run.

Get Pre-Approved!


---
Adaptive Mobility has Expanded Our Line of Scooters and Power Chairs!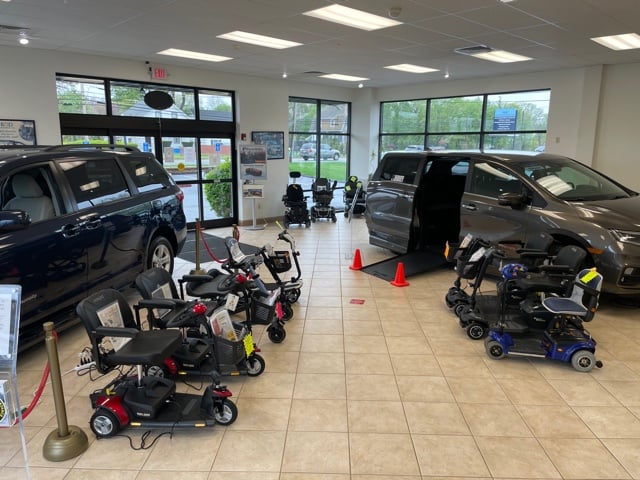 We have now expanded our line of Scooters and Power Chairs. If you or someone you know needs a new or used power chair or scooter we sell them discounted up to 90% off original MSRP. All new scooters are sold at MAP (minimum allowed by the manufacturer) Prices. Why buy online when you can try them out here while supporting a local family business. We also have pick up and delivery service and can do routine service on your Wheelchairs and scooters.
Adaptive Mobility now recycles used items so if you are looking for a place to donate used or unused equipment we can find someone in need.
We now have a great selection including hi tech rehab chairs to the newest Pride travel scooters including the new I-Ride, Zero Turn and GO Go's!!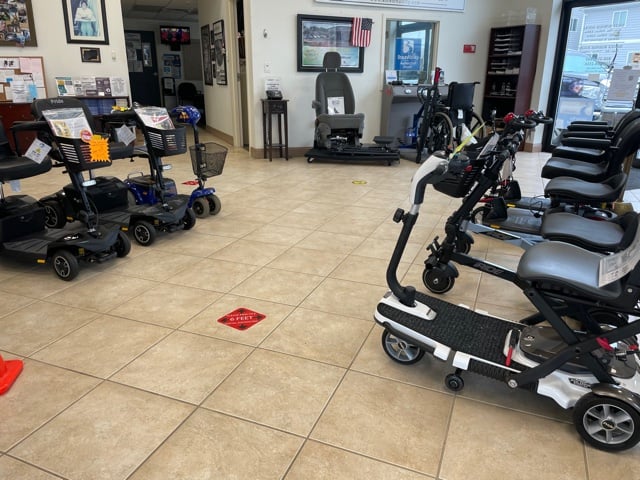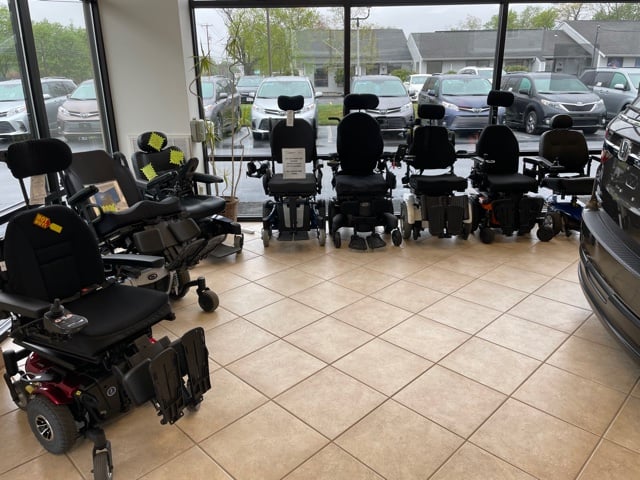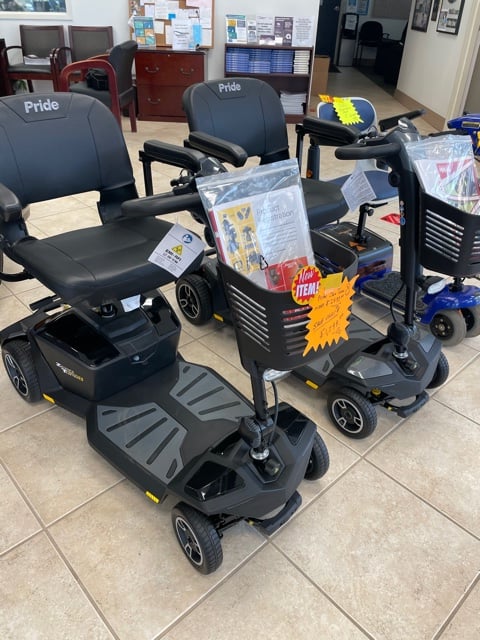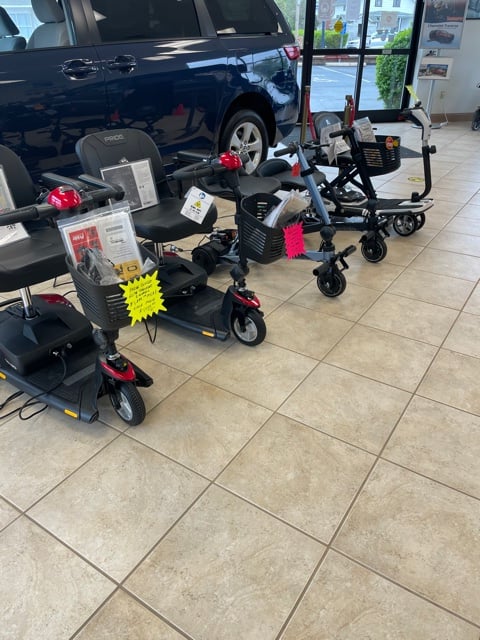 ---
Adaptive Mobility has the best NEW & USED BraunAbility Wheelchair Van inventory in New England!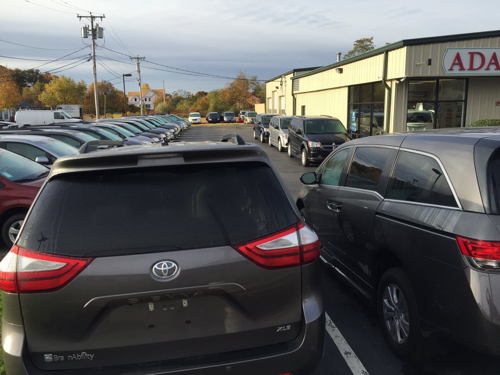 We now have a HUGE selection of great pre owned wheelchair vans in stock. Our inventory is so big that we have no spaces left on our lot. If you know someone looking for a wheelchair van spread the word that now is the best time to buy. Our selection includes 2004 to 2016 USED Honda, Toyota, Dodge and Chrysler mini vans.
Adaptive Mobility Wheelchair Vans is a Platinum BraunAbility dealer and our inventory is all on one lot here in Seekonk, MA. If you live anywhere in New England (MA, RI, VT, NH, ME or CT) it is worth the ride. We have 3 generations of Kochanek's on staff and are a true family business.
If you can't get here during the work week give us a call to schedule an after hours appointment. Our sales team is available 7 days a week including nights and weekends!!
---
Adaptive Mobility has the best NEW & USED BraunAbility Wheelchair Van inventory in New England!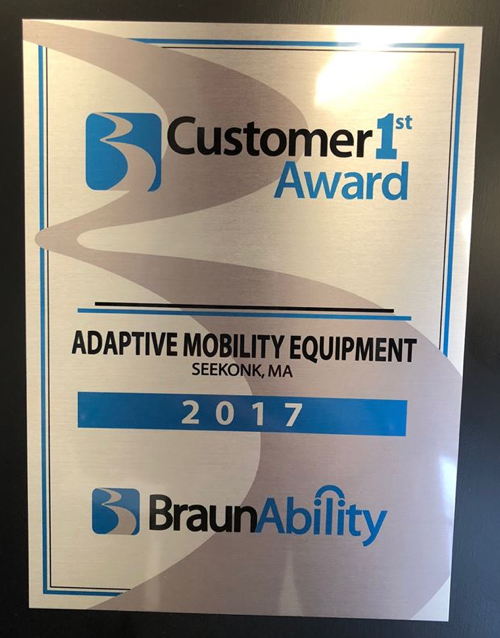 Almost 30 vans to choose from that are all located here on our lot for you to test drive. There is no need to choose from a list and then have to put a deposit on a van just to have it shipped here. Take the ride to Seekonk, MA where all our advertised vans are here for you to test drive before you buy.
We offer the best conversion warranty in the region with a 5 year or 60,000 mile warranty and offer free pick up and delivery.
Adaptive Mobility is a true family business with 3 generations on staff. Come see why the Kochanek family has been selling Wheelchair Vans for over 30 years!!
---
Check out these Informational Videos
<!— class="row chg_bg_white chg_bg_width_1" —>
---
SHOWROOM SPECIALS!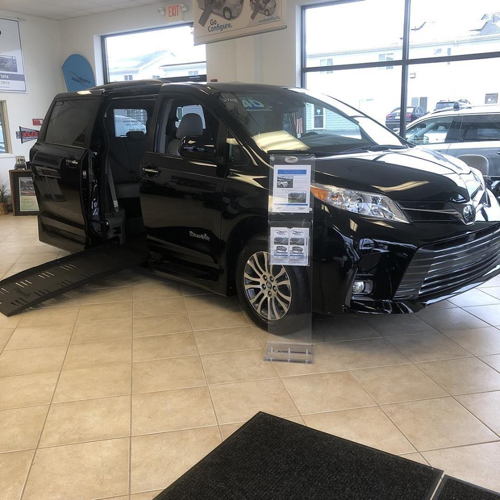 ---
Braunability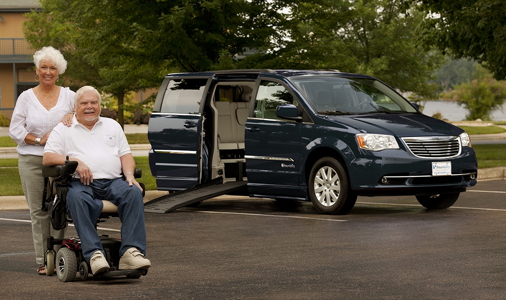 ---

AME provides Products and Services such as:
New Minivans
Pre-owned Minivans
Chair lifts
Scooters
Scooter lifts
Locking mechanisms
---
Adaptive Mobility is Your NMEDA Quality Assured Dealer
We are your local BraunAbility dealer selling Braun Lowered Floor vans. Braun has been the leader in Handicap vans for decades including the Toyota Sienna, Honda Odyssey, Dodge Caravan and Chrysler Town & Country power or manual side entry and power or manual rear entry.
Adaptive Mobility has Veterans resources including a FREE Veterans maintenance program.
---
Our Location
We are conveniently located at 1551 Fall River Avenue (Route 6) in Seekonk, MA.
5 minutes from Providence RI
15 Minutes from Warwick, RI
10 minutes from Fall River MA
50 minutes from Boston MA
1 hour from Cape Cod MA
60 minutes from Plymouth MA

20 minutes from Attleboro MA
45 minutes from Worcester MA
110 minutes from Springfield, MA
50 minutes from Mystic CT
90 minutes from New Haven CT
Call for more info
Sales and service for wheelchair vans in RI, MA, CT, NH, VT, ME and all across New England.
---
Why buy from us?
Why buy from the big guys that are just there to make the sale?? We are here for the service!! No sales reps that need to make quotas just family members here to help you make the right purchase. We now offer a 5 year 60,000 mile conversion warranty. Same product, same warranty but top notch service. We are a true family owned and operated business and offer the same product with better service and prices!!
We now have a great inventory of wheelchair vans including lifts and ramps. If you live in New England take the ride to see our inventory. Now offering a 3 year warranty on all used vans (under 150k miles). We are the place to go for a handicap van for sale in New England.
Adaptive Mobility has your wheelchair van for sale in Rhode Island (RI) and Massachusetts (MA). Ride away in your new or used handicap ramp van today!!